Gable Insurance Group
Life Insurance With Living Benefits
What Are Living Benefits?
​You might be familiar with life insurance, but do you know what living benefits are and the impact they could have on your family?
For many years, life insurance was purchased to provide death benefit protection for surviving family members. However, life insurance did not help when an insured person was struck down by a debilitating chronic, critical, or terminal illness.
Living benefits offer you the ability to access a portion of your life insurance death benefit if you were to suffer a qualifying illness and need to replace immediate income.
Importance Of Living Benefits

Terminal Illness
Imagine for a moment that you go to the doctor for a routine test, and the doctor tells you that you have at most six months to live. Of the millions of questions and fears racing through your mind, wondering how you will make ends meet should not be one of them. Living benefits can help you and your family remain financially stable.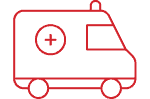 Critical Illness
A 25-year-old male non-smoker has a 24% chance of having a critical illness (cancer, heart attack, or stroke) before turning age 65. That same age male who smokes has a 49% chance of having a critical illness before age 65. Whether you are young or old, the same issues could arise. You could become unable to work full-time, require family members to miss work to provide care, or face astronomical medical bills. Where does the financial help come from?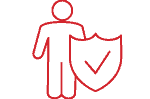 chronic Illness
Chronic illness is a health condition or disease that is persistent or otherwise long-lasting. Chronic illness causes about 70% of deaths in the U.S. Nearly 92% of seniors have at least one chronic disease, and 77% have two or more chronic illnesses. The majority of Americans will experience a debilitating chronic illness sometime in their life. When that happens your financial world is turned upside down. How do you pay for that?
How Do You Qualify For
Living Benefits?

Terminal Illness
If an eligible insured is diagnosed with an illness or condition that is expected to result in death within 24 months or less.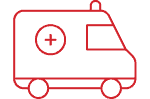 Critical Illness
If an eligible insured is diagnosed with a critical illness. Covered critical illnesses may include:
Heart Attack
Stroke
Invasive Cancer
End-Stage Renal Failure
Major Organ Transplant
ALS
Blindness
Paralysis
Arterial Aneurysms
Central Nervous System Tumors
Major Multi-System Trauma (Major injury to three or more organs or systems)
AIDS
Severe Disease of Any Organ (resulting in significantly altered life expectancy)
Severe Central Nervous System Disease (Parkinson's, Huntington's, Multiple Sclerosis, Encephalitis with long-term effects)
Major Burns (>40% BSA, 3rd Degree)
Loss of Limbs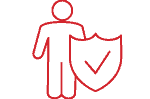 chronic Illness
If an eligible insured is unable to perform two of six activities of daily living for at least 90 days or requires constant supervision to protect from threats to health or safety due to severe cognitive impairment. The ADLs include bathing, continence, dressing, eating, toileting, and transferring.
Looking for Life Insurance?
Life insurance is not only the cornerstone of a solid financial plan, but it's hands down one of the most cost effective ways to protect the people who depend on you financially.
What would happen to your family if you were to die prematurely? Would they be able to maintain their current lifestyle?
Would your kids be able to go to college? Would your spouse be able to shoulder the load with one income?
If you have a child, are married, or you are carrying any kind of debt, purchasing life insurance is a no-brainer.
If all three, well, hopefully you already have life insurance. Here are a few other reasons to have life insurance though:
charitable donations
pay federal death and estate taxes
create an inheritance for your heirs
pay final expenses
We make buying life insurance easy.
At Gable Insurance Group, we make the process of buying life insurance extremely simple.
We have access to a wide range of life insurance companies so we can survey the marketplace and based on your individual rating criteria, find the best possible life insurance policy at the best price.
When purchasing life insurance there are a few things to consider. Do you want Term Life Insurance, or Whole Life?
If you don't understand the difference that's okay. That's what we're here for.
Life insurance is based on two main variables — your age, and your health.
How much life insurance do I need?
A mistake that we often see people make is basing their life insurance coverage on a guess, or just grabbing a number out of thin air without realizing what the impact of inflation could have on their life insurance proceeds.
One of the benefits of working with an independent agent like us is that we can sit down, and through a comprehensive needs analysis, determine the exact amount of coverage you will need to protect the people who depend on you.
The amount of coverage you need depends on a number of different variables. Here are a few examples:
how many children you have
your future earnings potential
whether or not you're married
spouses future earnings potential
you and your spouses age
amount of debt you have
Ready to purchase Life Insurance?
Reach out to Gable Insurance Group to learn about your options
for Life Insurance with Living Benefits
GET A QUOTE!